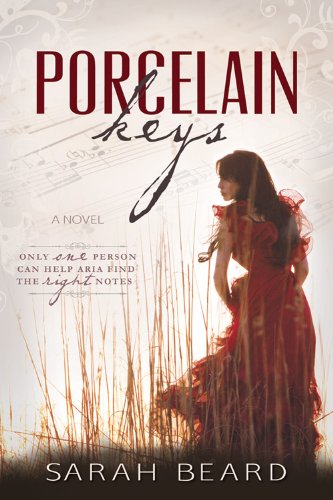 Publisher's Note:
Aria s life is full of secrets--secrets about her mother s death, her father s abuse, and her dream to go to Juilliard. When Aria meets Thomas, he draws out her secrets, captures her heart, and gives her the courage to defy her father. But when tragedy strikes and Thomas disappears, Aria is left alone to transform her broken heart s melody into something beautiful. Porcelain Keys is a captivating love story that will resonate long after the last page is turned.
This book was sent to Compass Book Ratings for review by the Author
Porcelain Keys
by Sarah Beard
Overall Review:
Aria's mother passed away when she was twelve years old, and she has been raised by her father for the last five years. Her father is doing a terrible job of this so now she is in survival mode. Aria just wants to get through senior year and move out so she can finally be herself and do what makes her happy. Everything changes when the boy next door moves in . . .
At first glance, Porcelain Keys seems to be a story mostly focused on music with a little romance on the side. While it does in fact have strong musical overtones, this does not take over the plot, but enhances it.
Author Sarah Beard begins with a compelling opening that immediately caught my interest. Her writing is lyrical and so beautifully descriptive that she awakens all your senses or as she so eloquently put it, "Every sense seemed heightened." The story will tug at many different emotions, as it is filled with surprises, disappointments, forgiveness, love, and much more. Beard does a great job of building characters who are three dimensional and dynamic.
Porcelain Keys reminds me a bit of Running Barefoot by Amy Harmon. I enjoyed this book so much that I actually couldn't put it down. I read it in one day--staying up until 3 a.m. to finish (which is uncommon for me). Anyone who loves a romance needs to read this!
Content Analysis:
Profanity/Language: None

Violence/Gore: Several (17) brief incidents including "cut yourself open" used as a metaphor; character mentions having had suicidal thoughts; character says she could die at some point; characters' parents die; story of someone whose children died; second hand report of car crash resulting in two injured and one killed; story of baby who dies due to being born too early; second hand report of characters fighting; teenage character receives bruises from parental abuse; insinuation that character is hit by parent; character has taxidermy business so readers occasionally learn about how the animals are worked on (little detail); hunting; character pushes and punches parent (no injuries occur); character hits another (no injury); second hand report that character smashes and breaks a piano and tears up another character's room; two characters die in a house fire and two others nearly die.
Sex/Nudity: Many (51) brief incidents including flirting; holding hands; hugging; kissing; touching leg, back and shoulders; characters arm in arm; characters slow dancing; male character holds female character in his lap; cuddling; character touches another's face; character wears very short, revealing skirt; teen pregnancy.
Mature Subject Matter:
Child abuse, teenager incarceration, teen pregnancy, death of a parent, depression, alcoholism, death of a child, suicidal thoughts.
Alcohol / Drug Use:
Character's father gets drunk on several occasions; character does drugs and drinks alcohol regularly; reference to Valium, feeling as if had taken some; alcoholism referenced; teenage characters drink alcohol at a party then drive drunk, resulting in tragedy.
Reviewed By Jenny