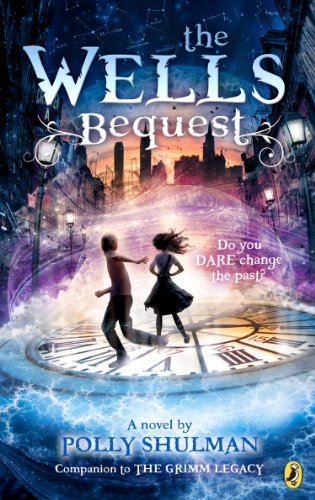 Publisher's Note:
Leo never imagined that time travel might really be possible, or that the objects in H. G. Wells' science fiction novels might actually exist. And when a miniature time machine appears in Leo's bedroom, he has no idea who the tiny, beautiful girl is riding it. But in the few moments before it vanishes, returning to wherever—and whenever—it came from, he recognizes the other tiny rider: himself!

His search for the time machine, the girl, and his fate leads him to the New-York Circulating Material Repository, a magical library that lends out objects instead of books. Hidden away in the Repository basement is the Wells Bequest, a secret collection of powerful objects straight out of classic science fiction novels: robots, rockets, submarines, a shrink ray—and one very famous time machine. And when Leo's adventure of a lifetime suddenly turns deadly, he must attempt a journey to 1895 to warn real-life scientist Nikola Tesla about a dangerous invention. A race for time is on!

In this grand time-travel adventure full of paradoxes and humor, Polly Shulman gives readers a taste of how fascinating science can be, deftly blending classic science fiction elements with the contemporary fantasy world readers fell in love with in The Grimm Legacy.
The Wells Bequest
by Polly Shulman
Overall Review:
First, let me just say- if you have not read The Grimm Legacy, go read it first. Then come back to this book. Not only would you regret missing an amazing book, but The Wells Bequest is technically its companion novel. In The Grimm Legacy you are introduced to some important people and things, so don't miss out on that.
Now we can get to the good stuff. This book was amazingly adventurous and made me want to spend all day in the library. If you are a literary nerd like I am, you will appreciate the amount of time the characters spend in the "New York Circulating Repository", which is pretty much like a library, but with objects rather than books. The coolest part is some of these objects are fiction...they come from books, an author dreamed them up and they shouldn't even exist outside of the pages of a book--but they do. And what happens when a group of kids wants to get ahold of one of the most important objects in the repository? Lots of mischief and shenanigans, that's what. I would recommend you read the book to find out. And the best part is, this book can appeal to adults and children alike!
Content Analysis:
Profanity/Language: 2 mild obscenities
Violence/Gore: A weapon is used to injure a character, blood is mentioned; a building burns to the ground; a character threatens another.
Sex/Nudity: A young boy and girl kiss two times.
Mature Subject Matter:
Lying, deceit.
Alcohol / Drug Use:
None
Reviewed By Lydia