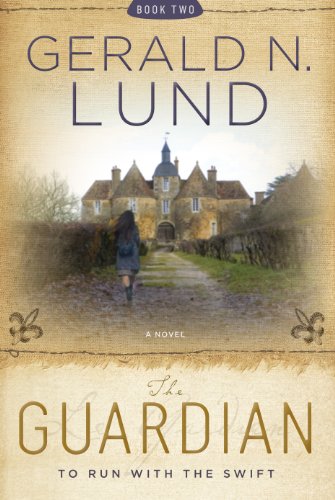 Publisher's Note:
From the bombed-out ruins of Munich, Germany, in the last days of World War II to a lavish present-day castle in Switzerland, this sequel to The Guardian (published in Fall 2013), weaves a vivid, heart-stopping tale of resilience, resolve, and revenge as Danni McAllister and her family discover the real reason they have been targeted by international terrorists. The astonishing secrets and unexpected powers of the pouch, dating back nearly two hundred years, take center stage in a plot filled with surprising twists and turns as Danni finds herself locked in an extraordinary battle of courage and fortitude that will determine the fate of her family and her role as the Keeper of the Pouch—or risk losing both forever.

From master storyteller Gerald N. Lund, this action-packed novel for the entire family originated as a series of bedtime stories told to his children when they were growing up. In the spirit of The Alliance, Freedom Factor, and Leverage Point, the author blends gripping, fast-paced adventure and suspense with a timeless message for readers of all ages.
This book was sent to Compass Book Ratings for review by Deseret Book
The Guardian: To Run with the Swift
by Gerald N. Lund
Overall Review:
Gerald N. Lund is the author of a large assortment of books. The Guardian: To Run with the Swift is book two in The Guardian series. It is highly recommended that readers start with the first book in the series. Those who are familiar with Lund's work will not be deterred by the thickness of the book nor will they be disappointed. As one might expect, Lund packs a lot of information into his novel and in many places it reads like a guide book, but an interesting one.
This story picks up right where the previous novel, The Guardian, ended. Fortunately, Lund does not waste a lot of time recapturing all of the events. Even the prologue is interesting and makes one want to continue the story. As the story progresses, the reader goes from enjoying the casual stroll through the lives of the characters to heart-stopping action and a race to the finish. All of this is neatly wrapped up by resolving the major plot points and satisfactorily answering questions about the characters and their futures.
Many fiction pieces out there have loads of annoying characters that are meant to be likeable, but are not. In this case, there seemed to be loads of likeable characters and somehow even the antagonist characters are intriguing. While the words themselves are not overly complex, the plot of the story requires one to pay close attention. The manner in which Lund matures and develops his characters is well done. Perhaps the only complaint in this department is that Danni's best friend, Rick, is just a little too perfect. Of course, that is also why he is so well-liked.
Overall this is a very satisfying read. Readers will enjoy everything from a romp in the southern Utah desert to a sobering stroll along the beaches of Normandy. When this book ended, it was disappointing to realize there is not likely going to be a third in the series.
Content Analysis:
Profanity/Language: None
Violence/Gore: Many references to characters being shot or shot at; character's suicide mentioned; characters are threatened with guns and Tasers; characters grabbed and struck by others; character's nose is broken in a fight and it bleeds; characters witness violent death of another; characters threaten to kill others; character injected with drugs; reference to violence that broke every bone on a person's hand.

Sex/Nudity: Married and non-married characters kiss, hold hands and embrace; character mentions condoms; character says two characters are sleeping together.
Mature Subject Matter:
Death of family members and friends, suicide, war crimes, divorce, kidnapping.
Alcohol / Drug Use:
Characters referred to as being drunk; character injected with drugs.
Reviewed By Susan