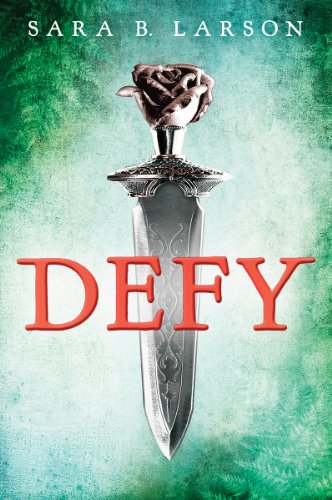 Publisher's Note:
A lush and gorgeously written debut, packed with action, intrigue, and heart-racing romance.

Alexa Hollen is a fighter. Forced to disguise herself as a boy and serve in the king's army, Alex uses her quick wit and fierce sword-fighting skills to earn a spot on the elite prince's guard. But when a powerful sorcerer sneaks into the palace in the dead of night, even Alex, who is virtually unbeatable, can't prevent him from abducting her, her fellow guard and friend Rylan, and Prince Damian, taking them through the treacherous wilds of the jungle and deep into enemy territory.

The longer Alex is held captive with both Rylan and the prince, the more she realizes that she is not the only one who has been keeping dangerous secrets. And suddenly, after her own secret is revealed, Alex finds herself confronted with two men vying for her heart: the safe and steady Rylan, who has always cared for her, and the dark, intriguing Damian. With hidden foes lurking around every corner, is Alex strong enough to save herself and the kingdom she's sworn to protect?
This book was sent to Compass Book Ratings for review by Scholastic
Defy
by Sara B. Larson
Overall Review:
Defy by Sara B. Larson appears at first glance to be a young adult fantasy novel. However, there is little description of the setting and development of the fantasy elements because the primary focus of this novel is the love triangle and relationships. Author Sara B. Larson creates two likeable and viable love interests for her protagonist, Alexa, and Alexa spends a lot of mental and emotional energy trying to resolve her feelings. The secondary focus of the plot line is one of political intrigue. Like a lot of recent young adult literature, Ms. Larson has given readers a female character with extraordinary ninja-like fighting skills, but this book will primarily appeal to romance lovers. The current plot line is satisfactorily wrapped-up, but the relationship turmoil is left open for the next book in the series. Reading this book is a lot like eating a box of chocolates...you keep just reading one more chapter and before you know it, you have devoured the whole thing. Defy is a fast and easy read that will appeal to many young readers.
Content Analysis:
Profanity/Language: 2 mild obscenities.
Violence/Gore: Brief scene of destruction by fire after attack with child viewing bodies of dead parents; character desires to harm another; report that a character was whipped and wounds are treated with mention of blood; extended fight scene with arrows resulting in several deaths with mention of blood and arrow in eye; characters hit with darts; sparring; report of faces being purposefully scarred; fight scene with kicking, hitting resulting in broken wrist and unconsciousness; brief scene of animal attacking a character resulting in death/injury with mention of blood; fight scene involving arrows, swords, magic and resulting in injuries; extended battle involving swords, arrows (non-detailed) resulting in deaths and injuries; character is hit; report of a parent murdered before child's eyes; report of death and disfigurement; non-detailed reference to blood sacrifice to summon black magic; non-detailed torture by magic; extended fight scene involving explosions, fire, magic, sword fighting, arrows, etc. resulting in injuries and death, with mention of blood; family member kills another family member.
Sex/Nudity: Non-detailed sexual references including the following: breeding house, breasts, rape, "monthly bleedings", seducing someone; instances of innuendo; implied sexual activity at a "breeding house"; character wraps breasts as part of a disguise; character fantasizes about kissing another; characters are attracted to other characters and having feelings of desire; report that a rape resulted in an illegitimate child; instances of character touching another's face/hair; scene of passionate kissing and embracing; characters kiss; characters kiss passionately (brief).
Mature Subject Matter:
Death, war, death of a parent, rape, murder, treason/loyalty
Alcohol / Drug Use:
Characters are drugged with darts; characters drink socially.
Reviewed By Cindy