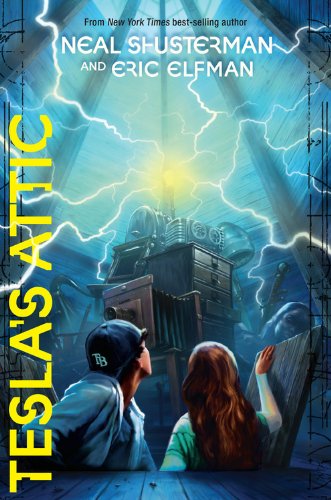 Publisher's Note:
After their home burns down, fourteen-year-old Nick, his younger brother, and their father move into a ramshackle Victorian house they've inherited. When Nick opens the door to his attic room, he's hit in the head by a toaster. That's just the beginning of his weird experiences with the old junk stored up there. After getting rid of the odd antiques in a garage sale, Nick befriends some local kids-Mitch, Caitlin, and Vincent-and they discover that all of the objects have extraordinary properties. What's more, Nick figures out that the attic is a strange magnetic vortex, which attracts all sorts of trouble. It's as if the attic itself has an intelligence . . . and a purpose.

Ultimately Nick learns that the genius Nikola Tesla placed the items-his last inventions-in the attic as part of a larger plan that he mathematically predicted. Nick and his new friends must retrieve everything that was sold at the garage sale and keep it safe. But the task is fraught with peril-in addition to the dangers inherent in Tesla's mysterious and powerful creations, a secret society of physicists, the Accelerati, is determined to stop Nick and alter destiny to achieve its own devious ends. It's a lot for a guy to handle, especially when he'd much rather fly under the radar as the new kid in town.

Fans of intrigue, action, humor, and nonstop surprises are guaranteed a read unlike any other in Tesla's Attic, Book One of the Accelerati Trilogy.
This book was sent to Compass Book Ratings for review by Hyperion Books for Children (A Disney Imprint)
Tesla's Attic
by Neal Schusterman and Eric Elfman
Overall Review:
Tesla's Attic by Neal Schusterman and Eric Elfman is middle grade science fiction that pushes the boundaries of science almost to the realm of fantasy--and that is okay. Starting with the premise that the most amazing inventions of the scientific genius Tesla were inadvertently sold at a garage sale, the protagonist and an eclectic group of characters (love the lunch lady!) embark on a scavenger hunt to find the far-flung items before they fall into the wrong hands. Rapidly paced and with never a dull moment, this book is a quick read that especially towards the end escalates to feeling positively madcap. Tesla's Attic book has high guy appeal and with 14 year old protagonists, there is some older audience appeal. Fans of humor, adventure, and Dave Barry and Ridley Pearson's Science Fair would enjoy this fun read. Tesla's Attic is the first in a planned trilogy and although its immediate plot crisis is resolved, there are plenty of mysteries and a last minute development that will make sure readers come back for the next book in the series.
Content Analysis:
Profanity/Language: 2 religious exclamations; 14 mild obscenities; 1 derogatory name; 1 scatological word; 1 anatomical term.
Violence/Gore: Character injured by falling object, mention of blood; report of a fire and death, non-detailed; reference to road kill; report of a death; verbal threat; scene in a morgue; character is shoved; characters are slapped; character scrapes self; character is killed, non-detailed scene.
Sex/Nudity: Characters are seen embracing; references including the following: making out, wet T-shirts, raging hormones, bra; characters hug; characters kiss.
Mature Subject Matter:
Death, death of a parent, incarceration, end of the world.
Alcohol / Drug Use:
Teacher drinks Jack Daniels in classroom.
Reviewed By Cindy