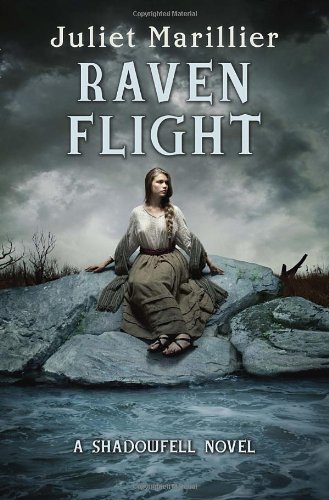 Publisher's Note:
Neryn has finally found the rebel group at Shadowfell, and now her task is to seek out the elusive Guardians, vital to her training as a Caller. These four powerful beings have been increasingly at odds with human kind, and Neryn must prove her worth to them. She desperately needs their help to use her gift without compromising herself or the cause of overthrowing the evil King Keldec.


Neryn must journey with the tough and steadfast Tali, who looks on Neryn's love for the double agent Flint as a needless vulnerability. And perhaps it is. What Flint learns from the king will change the battlefield entirely—but in whose favor, no one knows.
This book was sent to Compass Book Ratings for review by Random House
Raven Flight: A Shadowfell novel
by Juliet Marillier
Overall Review:
As book two of the Shadowfell trilogy, Raven Flight picks up roughly a few weeks after the end of Shadowfell. Neryn is now in Shadowfell and has joined the uprising against the tyrannical king. She is one of the rebellion's most important weapons with her extremely rare power as a Caller and must travel far and wide to increase her learning and hone her skills. Neryn's unexpected travel companion is the brave warrior, Tali, and the two women seem to face challenges all along their journey. The anticipation as they work to overcome each encounter keeps the pages turning. Marillier's writing makes you feel as if you've been transported into the Kingdom of Alban in this engrossing and beautiful tale. The enchanting story proves the old adage wrong that "All is fair in love and war" and I found myself even getting emotional on occasion. I'm anxious to complete this remarkable trilogy when the final book, The Caller, becomes available on January 1st, 2014, just a few days away!
Content Analysis:
Profanity/Language: 5 religious exclamations (characters says "gods" in fantasy world).
Violence/Gore: Many (41) brief incidents including verbal threats; character wants to hurt another; several occasions of potential violence mentioned including war preparations and what would happen if something specified occurs; character's death foretold; implied house fire (also implied that people were inside); character recalls when father died; second hand report that military troop died; second hand report that fantasy character died; several second hand reports of families being killed by kingsmen; second hand report that a character died and one nearly died from being exposed to cold weather; stories of war, torture and death; character dies from fall; character recalling an occasion when tied up and waiting for (implied) pending death or torture; characters injured during a competition (both second and first hand stories); second hand report of child's death; a few characters killed during a fight; first and second hand reports of magic being used to change people's minds but they are accidentally left mentally disabled; characters attacked and mildly hurt; several incidents of hunting; character punched; battling; a non-detailed scene of a character killing another due to an order from the king.
Sex/Nudity: Several (12) brief incidents including touching and holding hands; wanting to touch; arms around each other; character carries another in his arms; innuendo; characters discussing that they should not have sex; character dressed in revealing clothing; characters kiss, sleep in the same bed and there is implied touching.
Mature Subject Matter:
War, inflicted mental disability.
Alcohol / Drug Use:
Characters often drink mead and ale, frequently with their meals; drunk characters become belligerent.
Reviewed By Jenny