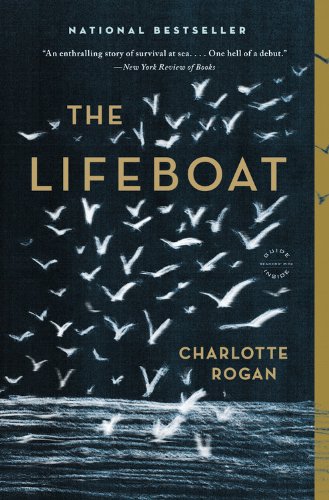 Publisher's Note:
Grace Winter, 22, is both a newlywed and a widow. She is also on trial for her life.

In the summer of 1914, the elegant ocean liner carrying Grace and her husband Henry across the Atlantic suffers a mysterious explosion. Setting aside his own safety, Henry secures Grace a place in a lifeboat, which the survivors quickly realize has exceeded capacity. For any to live, some must die.

As the castaways battle the elements and each other, Grace recollects the unorthodox way she and Henry met, and the new life of privilege she thought she'd found. Will she pay any price to keep it?

THE LIFEBOAT is a page-turning novel of hard choices and survival, narrated by a woman as unforgettable and complex as the events she describes.
The Lifeboat: A Novel
by Charlotte Rogan
Overall Review:
I don't know why I hesitated to read The Lifeboat when it was first released--perhaps because I thought it was in a time period that I wasn't interested in, or maybe I just had an abundance of reading material at the time. When I began to read this book, I knew putting it off had been a mistake. I have always been a little in awe of the sinking of the Titanic, and this book deals with a situation quite similar.
Told from the point of view of one of the women rescued from a sinking ship, The Lifeboat tells a horrific tale of an attempt to survive and of inhumane conditions that no one would want to be placed in. At times the main character has flashbacks of her life before the boat accident. She is newly married and never in her wildest dreams would have imagined she and her husband would find themselves in a situation such as this.
If you like historical fiction narrated by a strong, feminine voice, you should give The Lifeboat a try. It's an entertaining read, though at times you might find yourself worrying for the characters' sanity.
Content Analysis:
Profanity/Language: 3 mild obscenities; 1 derogatory name.
Violence/Gore: A character commits suicide, this is mentioned several times with blood and gore involved; a pregnant woman is shot to death in her belly, blood is mentioned; people in a boat are pushed over the side to "save" others on the boat; a character drowns.
Sex/Nudity: A woman speaks of losing her virginity briefly; a woman recalls a situation with a man involving sex before marriage; adults kiss multiple times.
Mature Subject Matter:
Death, malice towards others.
Alcohol / Drug Use:
Adults drink alcohol.
Reviewed By Lydia