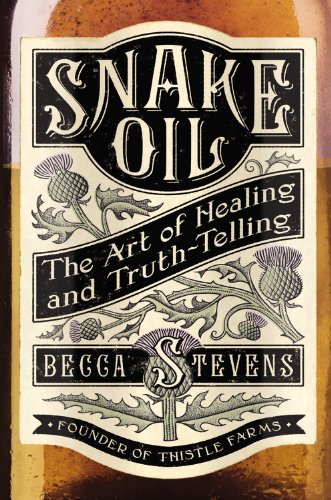 Publisher's Note:
"In the world of snake oils, you have to see the world a little differently. Where others see poverty, you see riches; where others see weeds, you see flowers; where others see sickness, you see openness."

Becca Stevens calls herself a "snake oil seller": She takes natural oils, mixes them with a good story, sells them in an open market and believes they help to heal the world. Becca is the founder of Thistle Farms, one of the most successful examples in the US of a social enterprise whose mission is the work force. She is also the founder of its residential program, Magdalene. The women of Magdalene/Thistle Farms have survived prostitution, trafficking and addiction, and the natural body care products they manufacture-balms, soaps, and lotions-aid in their own healing as well as that of the people who buy them. The book weaves together the beginnings of the enterprise with individual stories from Becca's own journey as well as 20 women in the community.

In Snake Oil, Becca tells how the women she began helping fifteen years ago have been the biggest source of her own healing from sexual abuse and her father's death as a child. Wise and reflective, Snake Oil offers an empowering narrative as well as a selection of recipes for healing remedies that readers can make themselves.
Snake Oil: The Art of Healing and Truth-Telling
by Becca Stevens
Overall Review:
Snake Oil salesmen are typically known as people to avoid; people who have earned society's distrust by selling fake balms and remedies. The title of this book might be a bit deceiving at first glance; the reader might not realize the stories it holds until reading past the first few pages. That's what happened to me, but unlike most people who are sold snake oils, I was pleased with the end result. I found the contents of this small book to be healing and so much more than they were marketed to be.
In this inspiring non-fiction book of stories of healing and hope, Becca Stevens does a great job of describing how natural remedies of essential oils and herbs can be used to make salves and other natural body care items that help heal the soul and body. The founder of retreats for homeless, abused, hurting, and hopeless women, Becca knows first-hand how healing the soul often must begin by first healing the body. When we feel good on the outside, the inside starts to respond in kind.
If you have a heart that is heavy for women in danger--women who are living on the streets and being abused daily, then this book will appeal greatly to you. It is a wonderful testament of how simple it can be to start something small that turns into something so much bigger than we could ever dream.
Content Analysis:
Profanity/Language: 1 mild obscenity
Violence/Gore: A man is killed by a drunk driver in a car accident
Sex/Nudity: Women are mentioned to be prostitutes; women are mentioned to be victims of rape; women recall memories of being raped and abused, non-detailed.
Mature Subject Matter:
Dire situations, homelessness. rape, prostitution
Alcohol / Drug Use:
Minor is mentioned to drink alcohol; adults and minors smoke; women are mentioned to be abusers of drugs.
Reviewed By Lydia