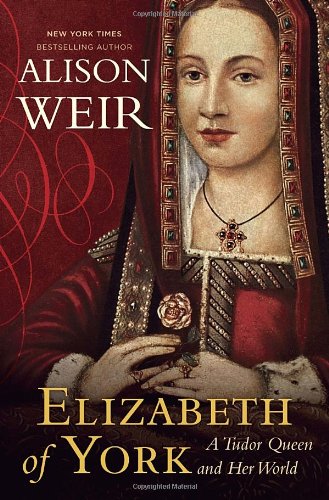 Publisher's Note:
Many are familiar with the story of the much-married King Henry VIII of England and the celebrated reign of his daughter, Elizabeth I. But it is often forgotten that the life of the first Tudor queen, Elizabeth of York, Henry's mother and Elizabeth's grandmother, spanned one of England's most dramatic and perilous periods. Now New York Times bestselling author and acclaimed historian Alison Weir presents the first modern biography of this extraordinary woman, whose very existence united the realm and ensured the survival of the Plantagenet bloodline.

Her birth was greeted with as much pomp and ceremony as that of a male heir. The first child of King Edward IV, Elizabeth enjoyed all the glittering trappings of royalty. But after the death of her father; the disappearance and probable murder of her brothers—the Princes in the Tower; and the usurpation of the throne by her calculating uncle Richard III, Elizabeth found her world turned upside-down: She and her siblings were declared bastards.

As Richard's wife, Anne Neville, was dying, there were murmurs that the king sought to marry his niece Elizabeth, knowing that most people believed her to be England's rightful queen. Weir addresses Elizabeth's possible role in this and her covert support for Henry Tudor, the exiled pretender who defeated Richard at the Battle of Bosworth and was crowned Henry VII, first sovereign of the House of Tudor. Elizabeth's subsequent marriage to Henry united the houses of York and Lancaster and signaled the end of the Wars of the Roses. For centuries historians have asserted that, as queen, she was kept under Henry's firm grasp, but Weir shows that Elizabeth proved to be a model consort—pious and generous—who enjoyed the confidence of her husband, exerted a tangible and beneficial influence, and was revered by her son, the future King Henry VIII.

Drawing from a rich trove of historical records, Weir gives a long overdue and much-deserved look at this unforgettable princess whose line descends to today's British monarch—a woman who overcame tragedy and danger to become one of England's most beloved consorts.
This book was sent to Compass Book Ratings for review by Ballantine Books
Elizabeth of York
by Alison Weir
Overall Review:
In Alison Weir's latest book, Elizabeth of York, readers will be immersed in detail. Weir, a New York Times Bestselling author, covers every imaginable part of Elizabeth's life. This well-organized biography includes customs and terminology of the day, as well as pictures and a family tree. Weir expands on a multitude of important historical events like the War of the Roses and reign of Richard III. The mystery of the two young princes in the Tower of London is also heavily discussed (Elizabeth was their sister).
Weir is remarkable for her ability to present research and then give argument to what she believes -- yet still allowing readers to draw their own conclusions. I liked how well the book flowed and learned a great deal from its content. Elizabeth of York is a fantastic biography.
Content Analysis:
Profanity/Language: 1 religious exclamation, 1 mild obscenity, 39 derogatory names
Violence/Gore: Numerous reports of violence involving war and murder; a few violence details from battle; numerous non-detailed scenes of violent death.
Sex/Nudity: Several sexual references and accounts of reported sexual activity; several pages discussing whether or not a royal marriage was ever consummated.
Mature Subject Matter:
Murder, war, infidelity, death of family members.
Alcohol / Drug Use:
Frequent drinking occurs throughout the book.
Reviewed By Rachel