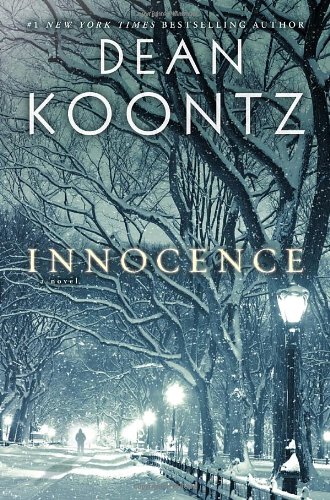 Publisher's Note:
NEW YORK TIMES BESTSELLER

In Innocence, Dean Koontz blends mystery, suspense, and acute insight into the human soul in a masterfully told tale that will resonate with readers forever.

He lives in solitude beneath the city, an exile from society, which will destroy him if he is ever seen.

She dwells in seclusion, a fugitive from enemies who will do her harm if she is ever found.

But the bond between them runs deeper than the tragedies that have scarred their lives. Something more than chance—and nothing less than destiny—has brought them together in a world whose hour of reckoning is fast approaching.
Innocence
by Dean Koontz
Overall Review:
What lurks deep below the streets of our cities, in the damp sewers and dark passages twisting and turning in a maze of blackness?--Perhaps rodents and other wild animals. Maybe, just maybe, a horrific monster of a man, a man who is so hideous he won't even reveal his eyes to the general public. Most likely this is not the case, but Dean Koontz sure sent a shiver up my spine with the idea that someone could live so easily in such seclusion.
Addison is a man with many secrets, and he would be pleased to stay that way. When he meets a young woman who lives the same sort of life, he is intrigued and wants to know more about her and why she chooses to live the way she does. Slowly they open up to each other and learn to protect and maybe even love each other.
If you have enjoyed other stories by Dean Koontz, I would highly recommend Innocence as a book you should read. This book is mild enough in horror that I think some people could pick it up and still enjoy it, even if Mr. Koontz's books aren't their typical go-to choice.
Content Analysis:
Profanity/Language: 6 mild obscenities; 4 derogatory names.
Violence/Gore: A boy is aware of the fact that his mother committed suicide; there is a gun fight with a casualty and a little bit of blood and gore; a character is killed in a stabbing, blood is mentioned; a character plots a murder; a mother is described to plan an infanticide, descriptions of how she would pull off this act are described in detail. Also see notes below in Sex/Nudity regarding attempted rape.
Sex/Nudity: A man and teen girl who are in love kiss; a man attempts to rape and abuse a minor, this is mentioned throughout the story multiple times; a man attacks a girl with the intent to rape her.
Mature Subject Matter:
Child abandonment, abuse.
Alcohol / Drug Use:
Drugs are used by adults; whiskey is consumed by adults.
Reviewed By Lydia