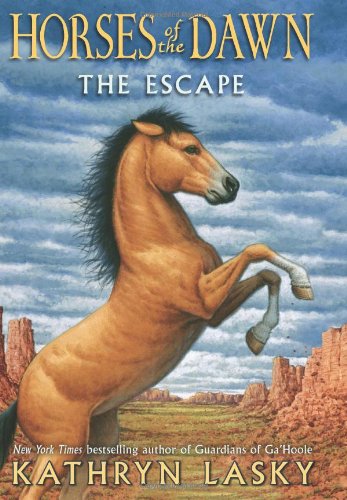 Publisher's Note:
Get ready for a wild run in bestselling author Kathryn Lasky's brand-new middle grade animal fantasy series.

The horses are in danger. They were rounded up by the two-legs and forced onto a boat to cross the wide ocean. The journey went badly and the boat was deemed too heavy, so the two-legs forced the horses into the sea and sailed away, leaving the herd to die in the deep.

By a miracle, the horses survived and made it to land. All but one -- the ghost horse, the leader of the pack. Now it's up to her daughter, only a filly, to take charge of the terrified herd. Stranded in a new land, surrounded by two-legs, will the horses find a way to live safe and free
This book was sent to Compass Book Ratings for review by Scholastic Press (A Scholastic Imprint)
Horses of the Dawn Book 1: The Escape
by Kathryn Lasky
Overall Review:
Kathryn Lasky, author of the Guardians of Ga'Hoole books, begins another epic tale from the animal kingdom with the first book in her Horses of the Dawn series: The Escape. In it, Lasky again demonstrates her ability to translate very human traits, relationships and politics into the animal world. Her portrayal of a small group of horses bent on escaping the reins of man at the time of the Spanish conquistadors is both imaginative and believable. The variety of characters, adventures, and the ultimate quest of this new "herd" of horses keeps the story progressing at a decent pace and interesting to the end, as well as hooking the reader for the future installments. The reader feels as if they have been given a secret key into the minds and language of horses--something that will surely captivate the budding equestrian of any age.
Content Analysis:
Profanity/Language: 1 mild obscenity.
Violence/Gore: Animals thrown overboard to swim to land themselves; character's mother killed by a shark; characters discover several dead bodies, some with hearts cut out; frightening/disturbing scene of a baby about to be sacrificed; men behead a horse; battle violence, horse breaks a man's arm; horse throws a man, gashes his head; an animal's head is bashed in; battle violence, man stabbed in stomach; man thrown off a wall; animals fight off mountain lions; description of a fawn killed by mountain lion; one animal bites another, another kicks; coyote attack.
Sex/Nudity: None
Mature Subject Matter:
Death, human sacrifice, harsh realities of life and death in the wild.
Alcohol / Drug Use:
None
Reviewed By Kristen