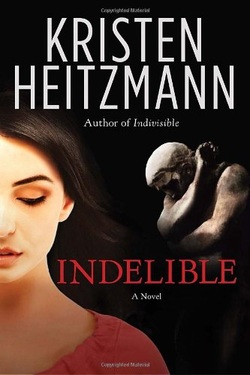 Publisher's Note:
When Trevor MacDaniel, a high country outfitter, rescues a toddler from the jaws of a mountain lion, he can't foresee the far-reaching consequences of his action, how it will entwine his life with gifted sculptor, Natalie Reeve—and attract a grim admirer.

Trevor's need to guard and protect is born of tragedy, prompting his decision to become a search and rescue volunteer. Natalie's gift of sculpting comes from an unusual disability that seeks release through her creative hands. In each other they see strength and courage as they face an incomprehensible foe.

Drawn by the heroic story of the child's rescue, a twisted soul sees Trevor as archangel and adversary, and threatens their peaceful mountain community—testing Trevor's limits by targeting their most helpless and innocent.
This book was sent to Compass Book Ratings for review by Waterbrook Press
Indelible
by Kristen Heitzmann
Overall Review:
Harrowing. This is the first word that entered my head upon finishing Indelible. It is harrowing. I felt dragged through so much horror, neglect, loss, and, well, 'unpacked baggage', that it left me winded and empty. Kristen Heitzmann's writing is vivid—she definitely has talent! The characters are real—perhaps too real, at times. You can feel the pain of a family ripped apart by despair when a child is attacked. You feel the need to rescue and help those little ones that are hurt, neglected, abandoned. You ache with every new trial, kidnapping, or devastation that occurs.

I felt confused at times with the 'mini chapters' that came between each chapter. These would begin with a passage from Paradise Lost (the epic poem about the fall of Lucifer) then continue with some very creepy mental dialogue. It did clear up and make more sense as the story continued, but those sections I will probably never forget for the rest of my life. The end was very surprising. It did have a redeeming feel to it, but felt so abrupt that it didn't overcome the shadow that was so prevalent throughout the rest of the story. Instead of feeling relief that it was over and rectified, I felt as if I still needed to look over my shoulder. Everyone in this story had some sort of physical or mental issue to overcome and many of those problems became loose ends that were left untied.

On a positive note, I really enjoyed the connection between all the characters. There was a definite feeling of community family between the people of the town. Everyone looked out for everyone else. There was a lot of emphasis on Trevor's role as rescuer (as the 'official' member of the Search and Rescue team), but I felt that every single character had a hand in rescuing another. They watched out for each other and cared for one another. It was a wonderful reminder of the fact that even small acts can make a big difference in the life of another—that rescuing someone else isn't always something tangible. If nothing else, Indelible raised the frequency of my 'mother's radar' as I watch over my children, and made me want to hug them and hug them and never let go!
Content Analysis:
The violence is varied. There is a great deal of child abuse present. There are also multiple kidnappings of children, one of which ends tragically. These kidnappings were presented in very disturbing and horrific circumstances. A wild animal attacks a toddler and the toddler loses an arm. A teen girl is abducted and she falls from a cliff (she survives). A woman is attacked by an intruder with a crowbar and is severely injured. A character commits suicide. There are multiple break-ins and a great deal of theft (cars, food, clothing).
As far as sexual content, there are a great deal of innuendoes and a sexual undertone which continues throughout the story. Many characters' clothing is described in a very sensual fashion. There is a 'behind doors' sex scene. Many affairs are mentioned as well as instances of rape and infidelity. One character is angry because she is not 'invited in' after a date.
In the case of profanity, there are only a few instances and they all have a religious slant to them.
Mature Subject Matter:
There were many different types of themes present in this book. Some were positive, such as the most prevalent one of overcoming in the face of extreme duress and heartbreak. There were others, though, that were not as positive, such as neglect, abuse, blame, guilt, fear, and overwhelming grief. A character feels a correlation or bond with Lucifer, and dresses/acts/thinks as a demon. We see often into his mind, and it is a dark and disturbing place. There were some very strong family issues where a mother cannot deal with a disabled child and abandons him.
Alcohol / Drug Use:
Alcohol abuse and teen drinking play a part as well.
Reviewed By Emily