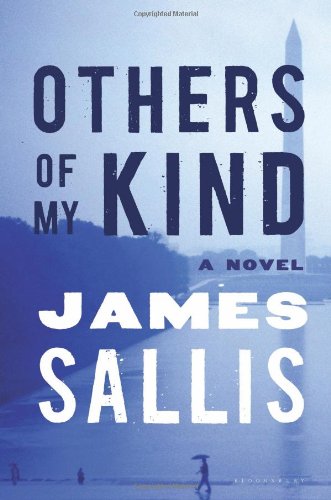 Publisher's Note:
At age eight, Jenny Rowan was abducted and kept for two years in a box beneath her captor's bed. Eventually she escaped and, after living for eighteen months on cast-offs at the local mall, was put into the child-care system. Suing for emancipation, at age sixteen she became a legal adult. Nowadays she works as a production editor for the local public TV station, and is one of the world's good people.

One evening she returns home to find a detective waiting for her. Though her records are sealed, he somehow knows her story. He asks if she can help with a young woman who, like her many years before, has been abducted and traumatized.

Initially hesitant, Jenny decides to get involved, reviving buried memories and setting in motion an unexpected interchange with the president herself. As brilliantly spare and compact as are all of James Sallis's novels, Others of My Kind stands apart for its female protagonist. Set in a near future of political turmoil, it is a story of how we overcome, how we shape ourselves by what happens to us, and of how the human spirit, whatever horrors it undergoes, will not be put down.
This book was sent to Compass Book Ratings for review by Bloomsbury USA
Others Of My Kind: A Novel
by James Sallis
Overall Review:
Though this book is slight in size, be warned that it is heavy in its message. Others of My Kind deals with the tough subjects of child abduction and abuse; abandonment and homelessness.
Smart and savvy, the main character Jenny Rowan is not a woman to be messed with. In her life she has known much pain and sorrow, but she is living proof that one can survive certain horrors and be a stronger person for it. However, when she is approached to help out with a case of a young girl who is dealing with situations similar to what Jenny experienced early in life, she feels like she should do something. She gets thrown into a situation she never could have imagined, and along the way is reminded vividly of her childhood and the horrors it held.
I enjoyed this book a lot, mostly for the author's writing style. The story was pretty deep, but the fact that this book doesn't even hit 200 pages helped to keep me from being pulled under by the depressing content. If you are looking for a good thriller that won't take you much time to read, this book is a good choice. However, it will stick with you for a while, and you might find yourself mulling it over for quite some time after you have finished.
Content Analysis:
Profanity/Language: 2 religious exclamations; 8 mild obscenities; 1 religious profanity; 1 derogatory name; 1 anatomical term; 2 F-word derivatives.
Violence/Gore: A young girl is abducted and held captive; there is one description of severe abuse of a woman; a girl is abused and receives hospitalization for the resulting injuries; an abducted child is described to be kept in close captivity and only let out when the captor sees fit. Note: See instances of rape listed in Sex/Nudity section below.
Sex/Nudity: Adults kiss; rape is mentioned more than once, but no explicit details are given; a teen girl is mentioned to be raped and abused, with little detail; there is one scene where a man threatens rape and commits it, but no explicit details are given.
Mature Subject Matter:
Abductions, missing persons, child abuse, rape.
Alcohol / Drug Use:
Adults drink alcohol frequently.
Reviewed By Lydia