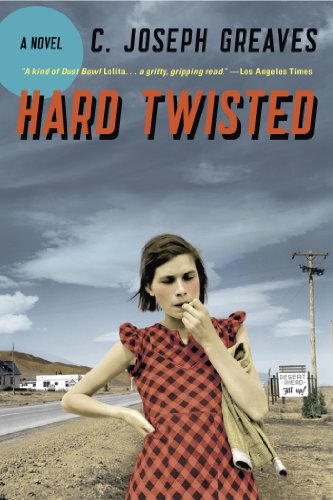 Publisher's Note:
In May 1934, outside of Hugo, Oklahoma, a homeless man and his thirteen-year-old daughter are befriended by a charismatic drifter, newly released from the federal penitentiary in Leavenworth, Kansas. The drifter, Clint Palmer, lures father and daughter to Texas, where the father, Dillard Garrett, mysteriously disappears, and where his daughter, Lucile, begins a one-year ordeal as Palmer's captive on a crime spree-culminating in the notorious Greenville, Texas, "skeleton murder" trial of 1935.

C. Joseph Greaves weaves a chilling tale of survival and redemption, encompassing iconic landscapes, historic figures, America's last Indian uprising, and one of the most celebrated criminal trials of the Public Enemy era, all rooted in the intensely personal story of a young girl's coming of age in a world as cruel as it is beautiful.
This book was sent to Compass Book Ratings for review by Bloomsbury USA
Hard Twisted: A Novel
by C. Joseph Greaves
Overall Review:
Lucile (Lottie) Garrett has a tough life. Motherless, and now homeless, she and her father live in the West in the 1930's--a tough time period for anyone to live through, but especially rough for a thirteen-year-old girl with no mother. Befriended by a drifter, they follow him to Texas, figuring they have nothing left to lose. Lucile and her father have no idea what trouble might await them though, and they discover the hard way that trusting this new-found friend might have been a deadly mistake.
I typically don't select books set in the early 1900's--it is a time period that holds little interest for me. However, I chose Hard Twisted because it looked intriguing and mysterious, and like a good change of pace for me. I found myself sympathizing with Lucile in the predicaments she gets herself into. She is such an innocent character, but because of the people she associates with, she becomes slightly guilty as the story goes on.
This book would have great appeal to mystery and western readers. Although I am neither of those particularly, I enjoyed the fast-paced reading this novel offered. It was a little dense at times, causing me to focus a little deeper on what I was reading, but it left me with some questions to ponder, which can be a nice quality in a book...or a haunting one.
Content Analysis:
Profanity/Language: 6 religious exclamations; 25 mild obscenities; 1 religious profanity; 4 derogatory names; 5 anatomical terms; 5 F-word derivatives
Violence/Gore: A group of men fight chickens, blood is mentioned and a chicken dies; a man hits a teenaged girl; a middle-aged man is verbally abusive to his teenaged fiancee; a man is physically abusive to his teenaged fiancee; a character murders two people, blood is mentioned but not overly descriptive.
Sex/Nudity: A man and teenaged girl have sex several times before marriage, brief scenes and non-detailed; a man attempts to rape a teenaged girl, brief scene and non-detailed; a man and woman kiss several times; there is one non-detailed scene of sexual innuendo and nudity between a man and wife
Mature Subject Matter:
Rape, murder, abandonment.
Alcohol / Drug Use:
Adults drink; adults smoke; teen girl smokes a cigarette.
Reviewed By Lydia