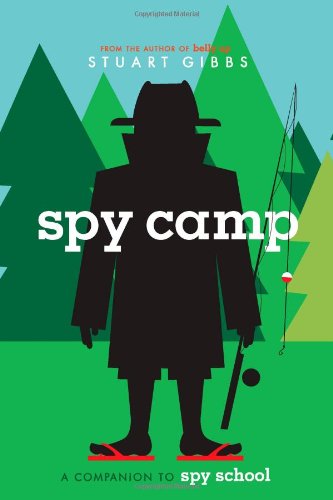 Publisher's Note:
School may be out for summer, but top-secret training continues for aspiring spy Ben Ripley—and so does the danger.

Ben Ripley is a middle-schooler whose school is not exactly average—he's spent the last year training to be a top-level spy and dodging all sorts of associated danger. So now that summer's finally here, Ben's ready to have some fun and relax. Except that's not going to happen, because a spy-in-training's work is never done, and the threats from SPYDER, an enemy spy organization, are as unavoidable as the summer heat. Will Ben be able to keep his cover—and his cool.
Spy Camp
by Stuart Gibbs
Overall Review:
What can I say?--I just like this series. Spy Camp by Stuart Gibbs is a follow-up to Spy School. It brings back Ben Ripley, an average guy in an anything but your average spy situation. Also returning are most of the characters from the first book. It isn't essential to read Spy School first, but really why would you want to deny yourself the fun? Spy Camp didn't have quite as much humor, but it was a sprint of action and the reader even gets to briefly peek under Erica's shell. We also learn a few things such as "you can outfit an entire spy mission at Walmart" and duct tape really is essential for any line of work--including spy work. This is a fun series of adventure and action with high guy appeal.
Content Analysis:
Profanity/Language: None
Violence/Gore: Property destruction, no casualties; report of death in the past by bomb; verbal threats of harm/death; scene involving shooting, guns, grenade launcher with destruction of property, no injuries; destruction of property by missile; hand-to-hand combat resulting in unconsciousness; undetailed report of incapacitating individuals; scene with explosions, destruction of property, peril, and implied death; characters are shot at; characters shows signs of physical violence, such as swollen lips, bruises, etc.; report of a tooth being ripped out.
Sex/Nudity: None
Mature Subject Matter:
Treason; Kidnapping/Hostage situation.
Alcohol / Drug Use:
Character is given a sedative; characters concoct "knockout drops".
Reviewed By Cindy