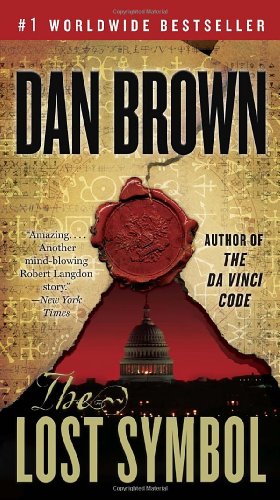 Publisher's Note:
In this stunning follow-up to the global phenomenon The Da Vinci Code, Dan Brown demonstrates once again why he is the world's most popular thriller writer. The Lost Symbol is a masterstroke of storytelling that finds famed symbologist Robert Langdon in a deadly race through a real-world labyrinth of codes, secrets, and unseen truths . . . all under the watchful eye of Brown's most terrifying villain to date. Set within the hidden chambers, tunnels, and temples of Washington, D.C., The Lost Symbol is an intelligent, lightning-paced story with surprises at every turn. This is Dan Brown's most exciting novel yet.
The Lost Symbol
by Dan Brown
Overall Review:
Imagine an ancient mystical power that has been guarded by a secret society. Now think of an evil villain that wants this power for their own nefarious reasons. Add intricate puzzles, a Harvard symbologist, and a plot-twist and you have just written a Dan Brown novel.
The Lost Symbol is no different. Although a formula book and in no way a departure from Brown's other work it is a good adventure story. Action-packed and easy to read, the story is a page turner. Filled with the interesting puzzles and bits of history that Brown is famous for, The Lost Symbol is entertaining and worth reading.
Content Analysis:
Profanity/Language: 19 religious exclamations; 30 mild obscenities; 11 religious profanities; 3 derogatory names; 10 scatological words.
Violence/Gore: A character's hand is severed; scary scene in a basement involving hidden room with skulls and other spooky items; extended scene where character is chased in a completely dark room at the end of chase the building is destroyed in an explosion killing a character; character is held in vat of chemicals until drowned, descriptive violent death; characters are shot at killing one, wounding another; characters are killed with a knife--one is graphic in nature, another is implied; scary scene where a character is locked in a coffin and then the coffin is filled with water thus drowning the character; character is constrained and then wrists are cut, slowly bleeding to death; character is killed by falling glass.
Sex/Nudity: Male character's nude body is described in detail, the character is castrated; implied sexual activity; implied homosexual activity.
Mature Subject Matter:
Murder, death of family member, drug use, torture, occult, human sacrifice.
Alcohol / Drug Use:
Adults drink wine and smoke; a character tells of his illegal drug use and addiction.
Reviewed By Matthew