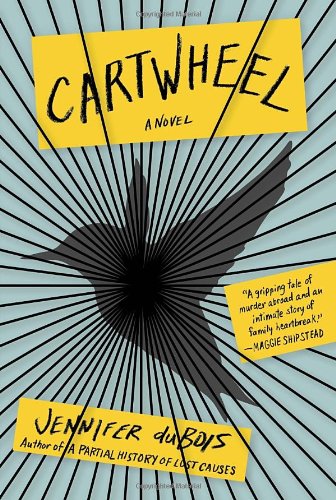 Publisher's Note:
NAMED ONE OF THE BEST BOOKS OF THE YEAR BY SLATE AND BOOKPAGE

Written with the riveting storytelling of authors like Emma Donoghue, Adam Johnson, Ann Patchett, and Curtis Sittenfeld, Cartwheel is a suspenseful and haunting novel of an American foreign exchange student arrested for murder, and a father trying to hold his family together.

When Lily Hayes arrives in Buenos Aires for her semester abroad, she is enchanted by everything she encounters: the colorful buildings, the street food, the handsome, elusive man next door. Her studious roommate Katy is a bit of a bore, but Lily didn't come to Argentina to hang out with other Americans.

Five weeks later, Katy is found brutally murdered in their shared home, and Lily is the prime suspect. But who is Lily Hayes? It depends on who's asking. As the case takes shape—revealing deceptions, secrets, and suspicious DNA—Lily appears alternately sinister and guileless through the eyes of those around her: the media, her family, the man who loves her and the man who seeks her conviction. With mordant wit and keen emotional insight, Cartwheel offers a prismatic investigation of the ways we decide what to see—and to believe—in one another and ourselves.

In Cartwheel, duBois delivers a novel of propulsive psychological suspense and rare moral nuance. No two readers will agree who Lily is and what happened to her roommate. Cartwheel will keep you guessing until the final page, and its questions about how well we really know ourselves will linger well beyond.
Cartwheel
by Jennifer DuBois
Overall Review:
Several months ago, I read the book Waiting to Be Heard which chronicles the story of Amanda Knox. I was intrigued by her testimony of her innocence. So when I read a blurb about a new book that was loosely based on Amanda's story, I immediately wrote it down on my "to-read" list. I'm glad I did, as the story was an entertaining, fast-paced read that kept me on the edge of my seat all the way through.
Cartwheel tells the story of two foreign exchange students who are complete opposites, but roommates nonetheless. They each arrive in a strange country with expectations and excitement, but neither is aware of what dangers and adventures await them. I was interested to see how the story would unfold, due to the fact that this book was inspired by a true story- and most of us know how that story turned out. I'm not going to give any spoilers away though, so if you want to know anything more about this book, you will just have to read it.
Content Analysis:
Profanity/Language: 12 religious exclamations; 20 mild obscenities; 6 anatomical terms; 16 F-Word derivatives
Violence/Gore: A murder is committed, blood is mentioned; bloody footprints at a crime scene are mentioned multiple times; a proposed method of committing a murder is presented in court in a graphic way; murder scene is described several times, blood is mentioned.
Sex/Nudity: Adults kiss multiple times; there are several instances where sex is mentioned, but no details are given; women and men are viewed as sex objects; a young woman receives a box of condoms as a going away gift and her parents tell her to "make safe decisions"; a man is mentioned to watch porn; a young woman and her lover have sex multiple times, involving nudity but no explicit detail.
Mature Subject Matter:
Murder, divorce, death of a child.
Alcohol / Drug Use:
Adults drink alcohol frequently; adults smoke; a college student mentions cocaine at a party; adults smoke pot.
Reviewed By Lydia