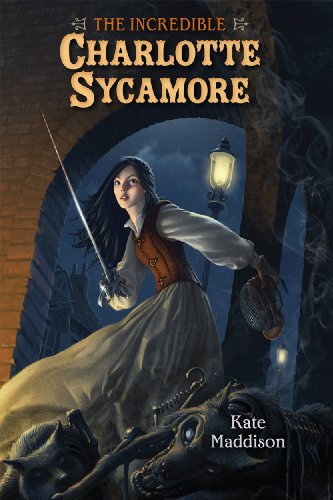 Publisher's Note:
Queen Victoria's court knows Charlotte Sycamore as the mild-mannered sixteen-year-old daughter of the Her Majesty's royal surgeon. Yet Charlotte has a penchant for inventing new gadgets, and most nights she sneaks out to sword fight with her best friends, Peter and Jillian. When the three are mauled by what look like rabid dogs, Charlotte is forced to hide both her friends and her own injury. As her symptoms worsen and people are murdered across London, she embarks in a race against time to find the antidote and ultimately save the queen's own life. Full of action, luxe royal court, engineered beasts, and a good dose of humor, this steampunk novel is a masterful blend of science fiction, fantasy, and alternative history.
The Incredible Charlotte Sycamore
by Kate Maddison
Overall Review:
The Incredible Charlotte Sycamore by Kate Maddison has a mash-up of elements such as romance and steampunk, but it is primarily a mystery/adventure in a historical setting. Because it has so many diverse elements, this young adult book has wide-appeal. Charlotte is spunky, loyal, determined, and adventurous, and with three of her friends, she finds adventure on the night streets of London. This novel is a fun and quick young adult read.
Kate Maddison is the pen name for romance author Katherine Haupt and this is her first young adult novel.
Content Analysis:
Profanity/Language: 13 religious exclamations; 12 mild obscenities; 1 derogatory name.
Violence/Gore: Characters battle animals resulting in severe injuries with the mention of blood; reports of death by mauling, non-detailed; verbal threat; characters knocked unconscious; brief fight involving punching and hitting; brief fight involving fists, gunshots, and objects; verbal account of a fight; report of an attempt to attack, no details; extended fight scene involving characters, mechanical devices, rocks, swords, guns resulting in injuries, implied deaths, and deaths.
Sex/Nudity: Some innuendo; reference to "rolling in sack", streetwalkers and prostitutes; characters embrace, hold hands, and kiss; characters are attracted/like to each other.
Mature Subject Matter:
Death, Treason, Theft, Socio-Economic Disparity, Ethics
Alcohol / Drug Use:
Adult characters drink; come characters are drunk; drinking in taverns.
Reviewed By Cindy