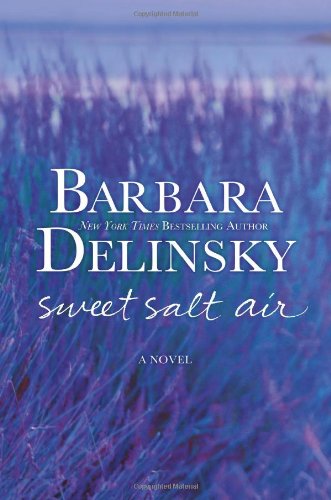 Publisher's Note:
On Quinnipeague, hearts open under the summer stars and secrets float in the Sweet Salt Air...
Charlotte and Nicole were once the best of friends, spending summers together in Nicole's coastal island house off of Maine. But many years, and many secrets, have kept the women apart. A successful travel writer, single Charlotte lives on the road, while Nicole, a food blogger, keeps house in Philadelphia with her surgeon-husband, Julian. When Nicole is commissioned to write a book about island food, she invites her old friend Charlotte back to Quinnipeague, for a final summer, to help. Outgoing and passionate, Charlotte has a gift for talking to people and making friends, and Nicole could use her expertise for interviews with locals. Missing a genuine connection, Charlotte agrees.
But what both women don't know is that they are each holding something back that may change their lives forever. For Nicole, what comes to light could destroy her marriage, but it could also save her husband. For Charlotte, the truth could cost her Nicole's friendship, but could also free her to love again. And her chance may lie with a reclusive local man, with a heart to soothe and troubles of his own.
Sweet Salt Air
by Barbara Delinsky
Overall Review:
Secrets, relationships, sickness, and travel. When two old friends reunite for the first time in years, they have no idea what lays ahead in the weeks to come. Set on the island of Quinnipeague, a place that holds mysteries of it's own, these friends learn things about each other that they have been hiding for a long time. Together, they must work through their differences, and decide if their friendship is worth the heartbreak that may transpire.
Barbara Delinsky has not lost her touch when it comes to writing a solid story with a bit of romance thrown in. I enjoyed getting to know the characters and intimate details about their pasts. Friendships and relationships play a key part in this novel, and it feels like learning a bit of gossip about a best friend when secrets are revealed. If you enjoy Delinsky's books, this is one you will not want to miss.
Content Analysis:
Profanity/Language: 2 religious exclamations; 7 mild obscenities; 2 derogatory names; 1 scatological word; 1 anatomical term; 2 F-word derivatives
Violence/Gore: None
Sex/Nudity: A woman accuses her friend of "sexting"; a man and woman have an affair; adults kiss multiple times; a woman talks briefly about her love life; a man and woman are mentioned to be sexually active; there are two brief scenes of a man and woman making love, with little to no detail.
Mature Subject Matter:
Terminal diseases; secrets.
Alcohol / Drug Use:
Adults drink; adults smoke pot; an adult man grows marijuana.
Reviewed By Lydia