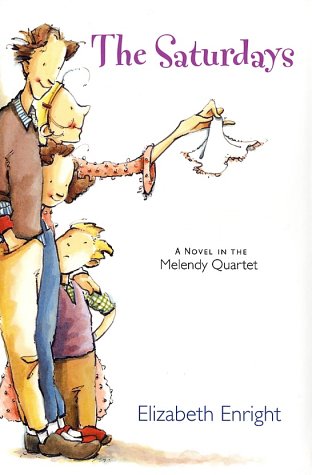 Publisher's Note:
Four reasons to cheer!

Meet the Melendys! Mona, the eldest, is thirteen. She has decided to become an actress and can recite poetry at the drop of a hat. Rush is twelve and a bit mischievous. Miranda is ten and a half. She loves dancing and painting pictures. Oliver is the youngest. At six, he is a calm and thoughful person. They all live with their father, who is a writer, and Cuffy, their beloved housekeeper, who takes on the many roles of nurse, cook, substitute mother, grandmother, and aunt.

Elizabeth Enright's Melendy Quartet, which captures the lively adventures of a family as they move from the city to the country, are being published in new editions. Each of the books features a foreward and signature black-and-white interior illustrations by the author. Popular artist Tricia Tusa provides irresistible new cover art that will appeal to today's readers.
The Saturdays
by Elizabeth Enright
Overall Review:
The Saturdays is one of those books that takes you back to what seems to have been simpler times. This book is set in the later 1930's in the heart of New York City. We get to know the four Melendy children, their father, their nanny, and their 'help around the house' guy. After grumbling about not being able to do anything with their meager allowances, the children decide to pool their resources each week and allow them each to take a Saturday to do something fun and suiting to their own personality with the money. We follow them on their individual adventures throughout the city each week, until Oliver, who is only six, decides to have his turn. This results in the three older kids having to reevaluate their plan.
The characters in this book, while far from perfect, are lovable and easy to relate to. They are good, smart, creative kids, who also have their sibling squabbles and faults, but they are always trying to be better. The adventures are brought to life with Enright's descriptive writing and it is fun to see New York City through the eyes of the these four children. The Saturdays is a joy to read and the fact that it is so innocent makes it a great book for those precocious readers, who are younger, yet read at a higher level. This book is first in what is called the 'Melendy Quartet', a series fo four books that follow this family for several years and many fun adventures. All ages will find the whole series appealing because of it's timeless themes of importance of family, hard work and simple fun.
Content Analysis:
Profanity/Language: None
Violence/Gore: None
Sex/Nudity: None
Mature Subject Matter:
Death of family member; Kidnapping
Alcohol / Drug Use:
A few accounts of adults smoking pipes and drinking alcohol.
Reviewed By Sally