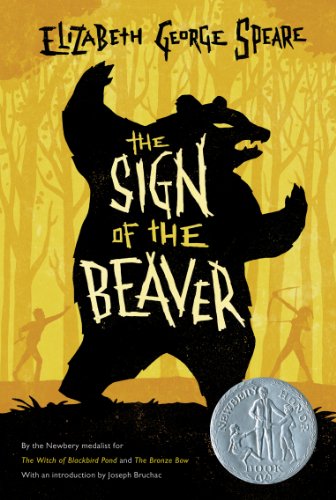 Publisher's Note:
Although he faces responsibility bravely, thirteen-year-old Matt is more than a little apprehensive when his father leaves him alone to guard their new cabin in the wilderness. When a renegade white stranger steals his gun, Matt realizes he has no way to shoot game or to protect himself. When Matt meets Attean, a boy in the Beaver clan, he begins to better understand their way of life and their growing problem in adapting to the white man and the changing frontier. Elizabeth George Speare's Newbery Honor-winning survival story is filled with wonderful detail about living in the wilderness and the relationships that formed between settlers and natives in the 1700s. Now with an introduction by Joseph Bruchac.
The Sign of the Beaver
by Elizabeth Speare
Overall Review:
The Sign of the Beaver is true classic in historical fiction and certainly a great introduction of that genre for this age group. It deals with 'white man's' very early expansion into the Indian territory of New England, but through the eyes of a 13 year old boy, Matt. We see him struggle with what he's been told and with his developing friendship with Attean, an Indian boy just his age. One can feel the emotions he must be going through as he is left on his own while his father returns to fetch the rest of his family. He is left to fend for himself for several months and then he finds the welcome companionship from an unlikely friend. As Matt grows and matures, he learns so much from his new friend that will become vital as he makes a life-altering decision. This book is a true coming of age or journey into manhood story that is told in an innocent way as Matt deals with survival resilience. Speare does a wonderful job at making this book come to life. She skillfully helps one feel just as Matt is feeling and makes it all feel real. While perfect for the preteen reader, especially as an introduction into historical fiction, anyone would enjoy this coming of age story.

Content Analysis:
Profanity/Language: None
Violence/Gore: Character stung by bees all over and becomes very ill; 2 characters attacked by an animal but receive no injuries; character tells how a close family member had been shot and scalped; several mentions of how characters kill animals for food as well as in defense; description of animals stuck in traps.
Sex/Nudity: Mention of how an Indian boy only wears a loin cloth and Indian children run around with no clothes on.
Mature Subject Matter:
Death of parent; Death of infant; Cultural Conflict
Alcohol / Drug Use:
Indian Chief smokes a ceremonial pipe and the young main character briefly takes it to his lips.
Reviewed By Sally