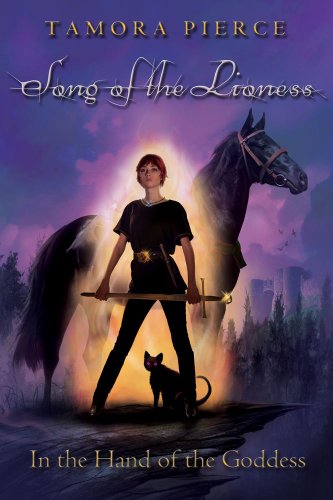 Publisher's Note:
Still disguised as a boy, Alanna becomes a squire to none other than the prince of the realm. Prince Jonathan is not only Alanna's liege lord, he is also her best friend -- and one of the few who knows the secret of her true identity. But when a mysterious sorceror threatens the prince's life, it will take all of Alanna's skill, strength, and magical power to protect him -- even at the risk of revealing who she really is...
In the Hand of the Goddess
by Tamora Pierce
Overall Review:
If you like a good love triangle, this book's for you! Of course, there's more to the story than that. There are exciting adventures and bad guys to overcome. Can Alanna keep her secret long enough to become a knight? This is another action-packed installment full of fun. I enjoyed this story more than the first book. The characters were more real and had more development and personality to them. I loved the oaths and teachings of the knights as they were very good and wholesome and inspiring. The story itself still feels a bit choppy and rushed at times, almost as if these books are background information being told as quickly as possible in order to get to the main point of the story. It definitely doesn't get boring, though, and if you're looking for a fun and fast read, this is one!
Content Analysis:
I had heard that this series 'grows' as you go, and that it does. There are a handful of minor oaths in relation to their 'gods'.
There are battles and skirmishes. Many characters are injured and many die. Some of it gets just a little graphic, but not too bad.
There are lots of little 'affairs'. A couple of characters start a long-standing love affair. Nothing is ever described, it's just mentioned in passing—a peripheral suggestion. Which brings me to some of the themes offered here: There is a great deal of sorcery. The battles and politics involved are sometimes intense and twisted. Mostly, there's the affair between two unmarried teenagers. It didn't seem to be necessary to the story itself.
Mature Subject Matter:
***
Alcohol / Drug Use:
***
Reviewed By Emily