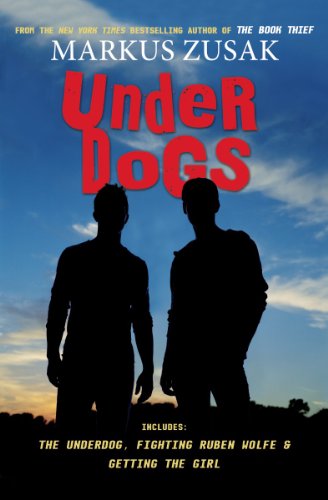 Publisher's Note:
From the bestselling author of THE BOOK THIEF

Before THE BOOK THIEF, Markus Zusak wrote a trilogy of novels about the Wolfe Brothers: THE UNDERDOG, FIGHTING RUBEN WOLFE, and GETTING THE GIRL. Cameron and Ruben Wolfe are champions at getting into fights, coming up with half-baked schemes, and generally disappointing girls, their parents, and their much more motivated older siblings. They're intensely loyal to each other, brothers at their best and at their very worst. But when Cameron falls head over heels for Ruben's girlfriend, the strength of their bond is tested to its breaking point.

We're proud to present these novels together for the first time, and to be introducing American readers to THE UNDERDOG, never before published in the United States. Fans of THE BOOK THIEF won't want to miss reading the novels that launched Markus Zusak's stellar career.
This book was sent to Compass Book Ratings for review by Scholastic
Underdogs
by Markus Zusak
Overall Review:
Underdogs is a compilation of a three book series called "Wolfe Brothers". It includes The Underdog, Fighting Ruben Wolfe, and Getting the Girl.
The Underdog is the story of a typical 15 year-old teenage boy, Cameron, who lives with his parents, two brothers, and sister. It's summer and Cameron and his brother, Ruben, spend most of their time together just hanging out and are frequently planning something naughty. Whether or not they follow through with those plans is another story. Zusak provides a quick, light read to entertain and make you think a bit. With Cameron telling the story, it focuses a lot on him and includes his thoughts and feelings and how he sorts through them. Seeing his growth from the beginning of the book to the end proves to be an interesting read.
The second book in the series, Fighting Ruben Wolfe, begins shortly after The Underdog story ends. In this story Cameron and Ruben find themselves becoming amateur boxers initially to help out the family financially, but it ends up being for a deeper reason in the end. This story has quite funny dialog. The relationship between the two brothers is humorous, but you also see some fierce devotion between the two. The story is from Cameron's perspective again and the majority of the time he's a typical teenager, but at other times he's a thoughtful, deep thinker. The plot is primarily a simple story about the relationship between two brothers, but it also covers some serious subjects as well, such as a parent being unemployed for a long period of time and how it affects the whole family.
Markus Zusak shows a more poetic side in the final book Getting the Girl, which picks up just after the ending of The Underdog. Zusak focuses on the sentimental part of Cameron's life and the often dysfunctional relationships within the Wolfe family. We see conflicts as well as forgiveness and support throughout the story. Told again by Cameron, you experience more of his introspection and the language is quite moving at times.
This is an engaging series that follows the evolution of a family and each individual family member as they experience both internal and external struggles and successes. It felt very honest and real as if it was almost an autobiography. The series will appeal to both male and female audiences who enjoy coming of age fiction.
Content Analysis:
Profanity/Language: 32 religious exclamations; 105 mild obscenities; 2 religious profanities; 60 derogatory names; 4 scatological words.
Violence/Gore: Many (57) brief incidents including but not limited to characters playfully and lightly hit each other; character says you can't fight someone who is dead; murder referenced as a simile; character says their dad will smack them if they're caught doing something wrong; verbal threats; potential to get killed by someone they anger discussed; reference to teenage character's mother and father hitting them after doing something wrong; boxing both discussed and participated in on many occasions; second hand report of character getting burned by a bully; characters getting beat up; character accidently gives another a fat lip; fight during a soccer game; character dreams about getting hung but saved before dying; character dreams about fighting, getting hurt and dead people; animal has heart attack; character severely injured during work accident; character has a mild stroke; dead bird in the gutter; dead pigs at a butcher; animal dies; characters steal property.
Sex/Nudity: Many (69) brief incidents including but not limited to kissing; making out; thinking about kissing and cuddling in dreams; character chews on another's ears; holding hands; kissing hand; cuddling; dreaming about being naked (non-sexual); mention of someone with pants falling down, exposing part of crack (non-sexual); a few incidents of a character staring at a girl's breasts; character jokes about another character probably having sex; dreaming about and looking at girls in swimsuits; thinking about a character naked on multiple occasions; character dreams about someone taking off his clothes and touching him (very little detail); character sees sign that says, "Live Girls"; character sees billboard with a boy and girl in underwear; character imagines a girl in her underwear and making suggestive comments to him; character desires and imagines having sex on several occasions; reference to character "getting around"; characters suggest that another should take up whoring and prostitution; reference to sex scenes; character is called a slut; references to whores; sexual innuendo; character says another could've been raped while walking home alone; implied sex; character thinks about touching a girl; magazine with pictures of scantily clad women; character's cleavage showing; joking about a dog having an STD; thinking about sex scenes in movies; character scratches crotch conspicuously; girl's breasts rub up against a boy's shoulder on accident; unmarried couple live together; implied sex; Playboy mentioned; character says he masturbates; characters touching each other all over while making out.
Mature Subject Matter:
Stealing; gambling; racism and sexism (just mentioned); homeless people referenced; character prays for people who are dying, getting raped and have AIDS; unemployment.
Alcohol / Drug Use:
Reference to people chewing tobacco; adult smokes cigar; several situations and references of characters drinking alcohol, being drunk and alcoholics without mentioning age of those involved; teenager buying drugs; character splashes through beer in streets during a dream; a few references to chain smokers; character sees a beer bottle in the gutter; a few incidents of characters smoking cigarettes; characters are stoned; character notices the smell of smoke and cocktails; character implying wanting to get high (ends up being a joke).
Reviewed By Jenny