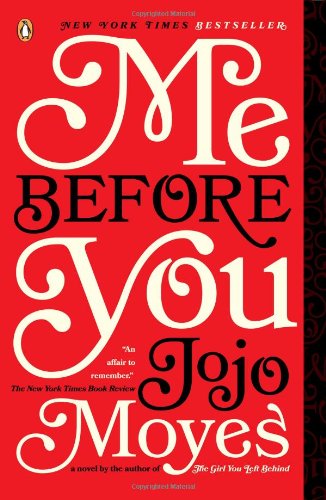 Publisher's Note:
A New York Times bestseller—with more than one million copies sold—by the author of The Girl You Left Behind

They had nothing in common until love gave them everything to lose . . .

Louisa Clark is an ordinary girl living an exceedingly ordinary life—steady boyfriend, close family—who has barely been farther afield than their tiny village. She takes a badly needed job working for ex–Master of the Universe Will Traynor, who is wheelchair bound after an accident. Will has always lived a huge life—big deals, extreme sports, worldwide travel—and now he's pretty sure he cannot live the way he is.

Will is acerbic, moody, bossy—but Lou refuses to treat him with kid gloves, and soon his happiness means more to her than she expected. When she learns that Will has shocking plans of his own, she sets out to show him that life is still worth living.

A Love Story for this generation, Me Before You brings to life two people who couldn't have less in common—a heartbreakingly romantic novel that asks, What do you do when making the person you love happy also means breaking your own heart?
Me Before You
by Jojo Moyes
Overall Review:
Me Before You by Jojo Moyes keeps the reader guessing up to the last chapter. This book, although categorized as a love story, takes on some deep issues. It provides a glimpse at the physical and emotional challenges of a quadrapalegic; it examines ethical questions about life and living. Told primarily from the first person perspective of Louisa Clark, there is the occassional, brief chapter from supporting characters' alternate views. Clark, as her employer often refers to her, is a refreshing, but believable character. Under-appreciated and often belittled by her well-meaning family, she experiences growth and transformation over the course of the novel.
This was a book that was quite difficult to put down. I thought about it when I went to sleep and then again almost immediately upon waking. What is right and wrong when it comes to love? A question this story unabashedly examines.
Content Analysis:
Profanity/Language: 34 religious exclamations; 10 mild obscenities; 4 derogatory names; 21 scatological words; 8 anatomical terms; 1 offensive hand gesture; 10 f-word derivatives.
Violence/Gore: Report of an accident resulting in injuries; report of attempted suicide, with a few details; report in newspaper of euthansia.
Sex/Nudity: Implied sexual activity; instances of sexual innuendo; characters kiss; mention of filthy magazines; report of affairs, no details; scene in which a vocal, public fight occurs between spouses about unfaithfulness; adults have sex, no explicit details; report of an encounter in which woman was unwilling victim of sexual attention (possible rape? unclear), but victim was unconscious due to drugs/alcohol and does not remember what exactly happened; many sexual references, including but not limited to the following: reference to jobs in adult chat & pole dancing, cleavage, having sex, liking sex, boobs, shagging, joke about lesbian tea, strip clubs, lap dances, suggestive remarks.
Mature Subject Matter:
Physical Handicaps/Disabilities, Suicide, Euthanasia, Extra-marital affairs
Alcohol / Drug Use:
Adult characters drink socially and are drunk upon a couple of occasions; report of a teenager drinking and smoking a joint.
Reviewed By Cindy