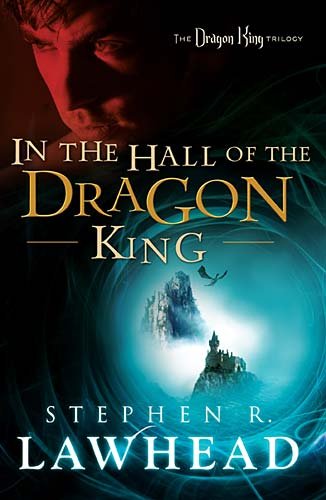 Publisher's Note:
A kingdom hangs in the balance...and a young boy answers the call.

Carrying a sealed message from the war-hero Dragon King to the queen, Quentin and his outlaw companion, Theido, plunge headlong into a fantastic odyssey and mystic quest. Danger lurks everywhere in the brutal terrain, and particularly in the threats from merciless creatures, both human and not-so-human.

While at the castle, the wicked Prince Jaspin schemes to secure the crown for himself, and an evil sorcerer concocts his own monstrous plan. A plan that Quentin and Theido could never imagine.

In the youth's valiant efforts to save the kingdom and fulfill his unique destiny, he will cross strange and wondrous lands; encounter brave knights, beautiful maidens, and a mysterious hermit; and battle a giant, deadly serpent.
This book was sent to Compass Book Ratings for review by Thomas Nelson
In the Hall of the Dragon King
by Stephen Lawhead
Overall Review:
In the Hall of the Dragon King brings the times of kings, queens, knights and darklords to life with its engaging plot of good versus evil. An urgent message that is brought forth by a wounded knight captures the readers attention from the early pages of the book. As the story continues Quentin, a young acolyte, realizes that his role is much more important than just helping to ensure the delivery of the message. The reader will enjoy a thrilling plot and unexpected turns in the journey to bring the King back and set things straight. The author, Stephen R. Lawhead, provides maps of Mensandor and Elsandor to further engage readers in the story and bring the details to life. In the Hall of the Dragon King is only the first book of a trilogy and is recommended for those whom truly enjoy adventure.
Content Analysis:
The language is due to mention of the Lord or God when asking for help or for a characters well being.

Regarding sexual content, one character briefly looks at another "lustfully."

War violence is very present in this book. Cries of men drowning, swords, arrows, and men falling on pikes are described. Wolves attack a couple characters and a snake fight occurs. Soldiers mistreat a prisoner causing his head to hit on the floor. Description of blood is present yet not gory. The strong instances pertain to creatures called Harriers who are menacing and enjoy to kill. In a battle two harriers become beheaded and the third harrier shows the character who sent them. A severed finger is shown to characters. Dead bodies rise, their faces are described and meant to evoke fear.

The language and sexual content are very mild in this book but the violence is present enough to make In the Hall of the Dragon King a moderate mature theme.
Mature Subject Matter:
***
Alcohol / Drug Use:
***
Reviewed By SqueakyCleanReads