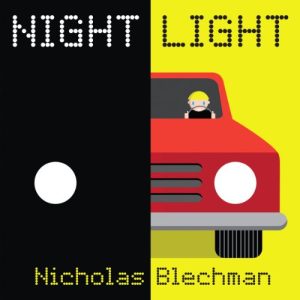 Think The Very Hungry Caterpillar (Carle) meets Freight Train (Crew) and you have Night Light by Nicholas Blechman.  It has everything that a parent looks for in reading a book to their toddler or preschooler:
Rhyming? 
Check.
  Counting? 
Check. 
Colors? 
Check. 
Shapes? 
Check.
Visual appeal? 
Check.
  Tactile appeal? 
Check. 
Perfect length? 
Check.
The striking, bold, clean lines of the graphics are captivating and children will adore not only the vehicles, but the other visual details on the pages, such as snowmen ice-fishing and renegade fire hoses.  It is written to engage the reader and the listener in a back-and-forth interactive dialogue.  The die-cut holes are perfect for little fingers and are cleverly incorporated into the illustrations, regardless of which page the reader is viewing.
Normally, Compass Book Ratings doesn't review picture books, but when this delightful book arrived by surprise, it was irresistible.  I just couldn't help myself and I can almost guarantee that toddlers and preschoolers will feel the same.  It will become a classic and is the perfect addition to any library.  Most definitely a 5 star book!
– Cindy, Executive Editor
This book was sent to Compass Book Ratings for review by Scholastic.